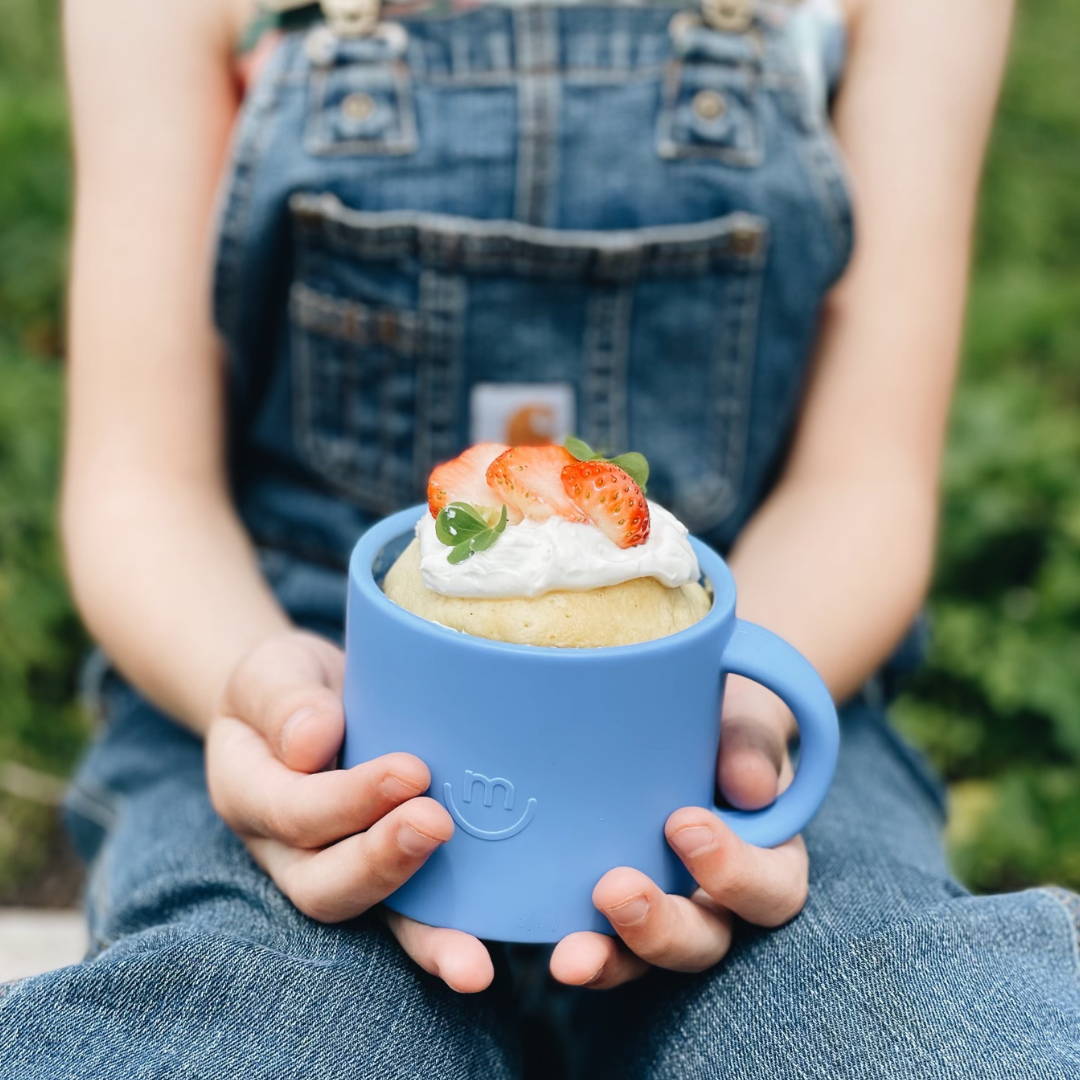 Fill snack cup with 1/2 cup pancake batter (recipe below)

Microwave 1 minute

Top with a dollup of cultured cream cheese* (recipe below) & sliced strawberries

More peas!
* Homemade cultured cream cheese can be replaced with regular whipped cream cheese or whip cream.
Sourdough Pancake Batter Recipe: (makes enough for 2 snack cups)
1/4 cup sourdough starter (active or discard)*

1/4 cup cultured buttermilk or plain yogurt

1 egg

1 tbsp raw honey (children over 1 years old)

1 tbsp melted butter

1/2 cup all-purpose flour

1/4 tsp baking soda

1/4 tsp baking powder

1/4 tsp fine sea salt
Mix all ingredients together!
Tip: If you don't keep a sourdough starer you can just mix togerther 1 cup flour & 1 cup filtered water and let sit overnight. If you don't have time just thin the batter with a little extra buttermilk or yogurt.
Fresh Cultured Cream Cheese Recipe:
1 quart whole milk

1 quart cream

1/4 cup yogurt or kefir

2 drops double-strength vegetable rennet dissolved in 2 tbsp filtered water

1 tsp fine sea salt
Heat milk and cream to 75° F. Add yogurt and stir in an up & down motion for 10 seconds. Stir in dissolved rennet for 10 seconds with an up & down motion. Cover pot and let sit at room temperature to culture for 12 hours. Place colander over a large pot and line with a clean, thin dishtower (a flour sack works well). Pour cultured milk and cream into towel. Gather up the towel and tie it to a wooden spoon placed over the pot OR a cabinet handle with the bundle suspended over the pot to catch the dripping whey. Allow the bundle to hang and drain for 6-8 hours. Open up the towel and add 1 tsp fine sea salt. Mix together and store in a pint jar in the refrigerator.
Yes this sounds like a lot of work - but it's so good and a fun weekend project for you and your little one :)
Thanks for sharing @wildheartfarm
Join our email list to be notified when we add more fun recipes, including 5-minute meals, mini cakes & more!